Echinacea Coneflowers in Alabama
Echinacea, commonly known as coneflower, is a genus of herbaceous flowering plants in the daisy family. It is native to eastern and central North America, where it is found growing in moist to dry prairies and open wooded areas. They have large, showy heads of composite flowers, blooming from early to late summer. The genus Echinacea derives from the Greek word 'echino,' meaning sea urchin or hedgehog, referring to the spiky appearance and feel of the flower heads.
There are around nine species of Echinacea, but the most commonly known and used are Echinacea purpurea (Purple Coneflower), Echinacea angustifolia (Narrow-leaf Coneflower), and Echinacea pallida (Pale Purple Coneflower).
Echinacea plants are well known for their medicinal properties, and they have been used for centuries by Native Americans for treating various ailments. Echinacea is believed to boost the immune system, and today, it is commonly used to prevent and treat colds, flu, and other infections. However, scientific studies on the effectiveness of Echinacea as a treatment for colds, flu, or other infections have produced mixed results. Some studies show some benefits, while others show no effect. Therefore, it's recommended to consult with a healthcare professional before using Echinacea or any other herbal supplement.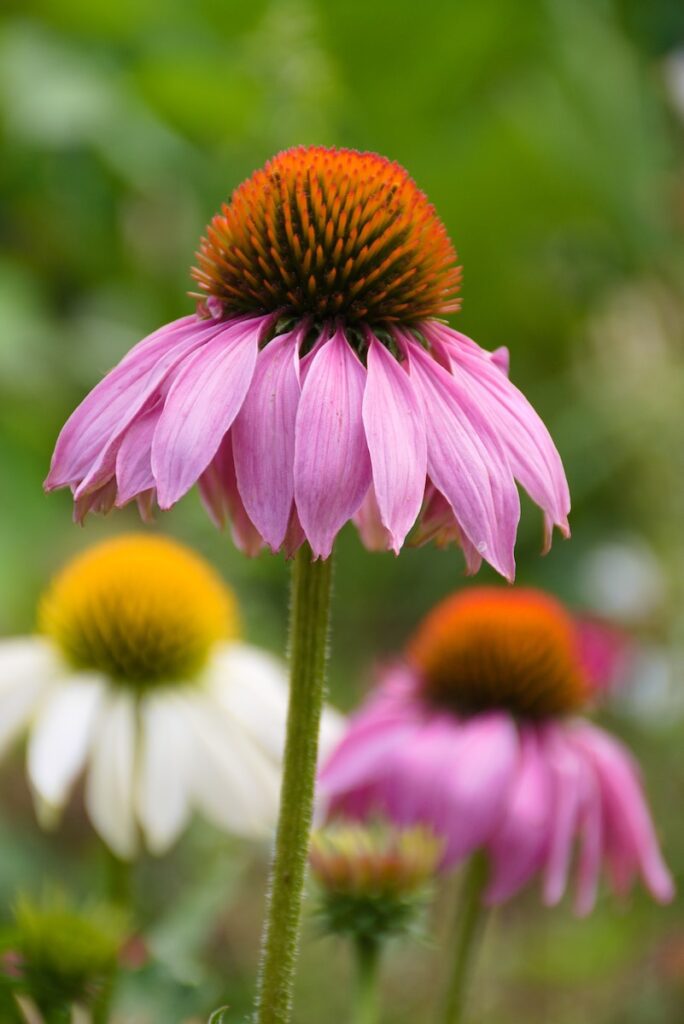 How to Grow
Growing Echinacea (Coneflowers) is relatively easy as they are hardy and drought-tolerant. Here are some steps and tips for growing Echinacea:
Choose the Right Variety: There are several species and varieties of Echinacea, each with unique characteristics. The most commonly grown is Echinacea purpurea, but there are many other beautiful and valuable varieties to consider.
Planting Seeds or Seedlings: You can start Echinacea from seeds or purchase young plants from a nursery. If starting from seeds, you can sow them indoors 8-10 weeks before the last expected frost or directly outdoors in spring or fall. If you are planting seedlings, it's best to plant them in the spring or fall.
Select the Right Spot: Echinacea prefers full sun but can tolerate partial shade. Ensure the planting site receives at least 4-6 hours of sunlight daily.
Prepare the Soil: Echinacea prefers well-draining soil with a pH between 6.0 and 7.0. It's not very particular about soil fertility, but adding some compost to the planting hole can help get the plants off to a good start.
Planting: Plant the seeds or seedlings about 1-3 feet apart, depending on the variety. Cover the seeds with about 1/4 inch of soil and water them well. If planting seedlings, dig a hole large enough to accommodate the root ball and plant at the same depth it grew in its container.
Watering: Water the plants regularly until they are established. Once established, Echinacea is relatively drought-tolerant, so you only need to water during prolonged dry spells.
Maintenance: Echinacea requires very little maintenance. You can deadhead the flowers to encourage more blooms, but it's unnecessary. Leaving the flowers on the plant can provide food for birds during the winter.
Fertilizing: Echinacea only requires a little fertilizer. You can apply a balanced, slow-release fertilizer in the spring if desired.
Mulching: Applying a layer of mulch around the base of the plants can help retain moisture and suppress weeds.
Dividing: Echinacea plants can be divided every 3-4 years in the spring or fall if they become overcrowded.
Remember, Echinacea is a perennial that will come back year after year. It's also an excellent plant for attracting butterflies and bees to your garden!
Medicinal Uses
Echinacea has been used for centuries for its medicinal properties, and it is one of the most popular herbal supplements in the United States and Europe. Here are some common medical uses of Echinacea:
Immune System Support: Echinacea is most commonly used to boost the immune system. It is believed to stimulate the body's immune response by increasing the production of white blood cells and activating macrophages and natural killer cells.
Cold and Flu: Many people take Echinacea at the first sign of a cold or flu to reduce the severity and duration of symptoms. However, research on the effectiveness of Echinacea for preventing or treating colds and flu has produced mixed results. Some studies have found that it can reduce the risk of catching a cold or may help reduce the duration and severity of cold symptoms, while others have found no benefit.
Respiratory Infections: Echinacea is also used to treat other respiratory infections, such as bronchitis and sinusitis.
Wound Healing: Echinacea has anti-inflammatory and antimicrobial properties, and it has been used topically to help heal wounds, skin infections, and other skin conditions, such as eczema and psoriasis.
Urinary Tract Infections: Echinacea is sometimes a natural remedy for urinary tract infections (UTIs).
Pain Relief: Echinacea has been used traditionally to relieve pain associated with headaches, toothaches, and sore throat.
Anti-inflammatory: Echinacea has anti-inflammatory properties, which may help reduce inflammation and swelling.
Antioxidant Properties: Echinacea contains compounds with antioxidant properties, which may help protect the body's cells from damage caused by free radicals.
Antiviral and Antibacterial Properties: Echinacea has antiviral and antibacterial properties, which may help fight off infections.
It's important to note that while Echinacea is generally considered safe for short-term use, it can cause side effects in some people, such as nausea, dizziness, and rash. It may also interact with certain medications or other herbal supplements. Therefore, it's always recommended to consult with a healthcare professional before using Echinacea or any other herbal supplement, especially if you are pregnant, breastfeeding, have an autoimmune disorder, or are taking other medications or supplements.